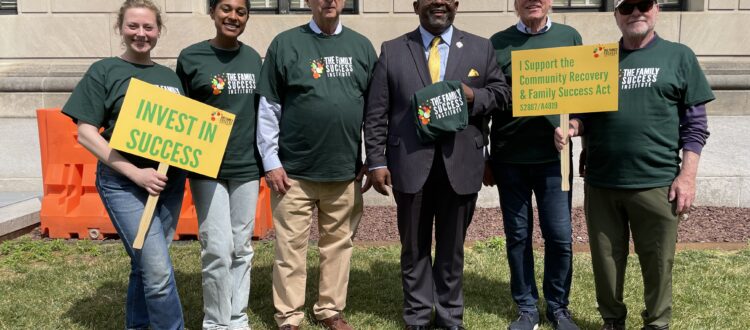 Family Success Institute Holds Rally at Statehouse
Legislators and organizations request appropriation of funds to support family success
TRENTON, NJ (June 20, 2023) – Today, members of the Family Success movement, including elected officials; leaders of nonprofits, human service agencies and neighborhood initiatives; parents, teens and community stakeholders from across the state, held a rally at the New Jersey statehouse Annex to promote "family success" legislation.
Hosted by The Family Success Institute (FSI), a nonprofit that promotes transformational thinking and action in family policy, funding and practices, supporters of the Family Success movement called upon Governor Phil Murphy and the Legislature to appropriate $25.4 million in the FY 2024 budget, as called for in Assembly Bill 4819 & Senate Bill 2887 (A4819/S2887), the Community Recovery and Family Success Act. In addition to establishing a statewide Family Success Council to better support families, these funds will support community-based and directed Family Success services in every county in the State.
The Family Success legislation received several key endorsements from influential leaders, including the New Jersey Legislative Black Caucus and Advocates for Children of New Jersey (ACNJ). Primary legislative sponsors of A4819/S2887 include Senator Nia Gill (D-Essex/Passaic), Senator Vin Gopal (D-Monmouth), Asm. Reginald Atkins (D-Union), Asw. Shavonda Sumter (D-Bergen/Passaic), Asw. Angela McKnight (D-Hudson) and Asw. Verlina Reynolds-Jackson (D-Hunterdon/Mercer).
"Across the state, families are hurting. The COVID-19 pandemic amplified and worsened social insecurities such as excessive incarceration, lack of access to education, health care and child care, and much more," said Assemblyman Atkins, the prime sponsor of A4819. "This bill is a tool that will help get New Jersey where it needs to be – leading the charge of proactive family success measures."
After the rally, organizers delivered a petition to the offices of Governor Murphy, Senate President Nicholas Scutari and Assembly Speaker Craig Coughlin, calling on the Governor and Legislature to pass A4819/S2887 quickly.
"For too long, our state's family policies, funding and programs have focused on reacting to family distress instead of proactively investing in opportunities for positive family and community outcomes," said Tim Carden, Executive Director, FSI. "The time for change is now – families are the bedrock of communities and the building blocks for our future. This legislation proactively empowers those families to succeed."
Bills A4819/S2887 call for $71 million in spending over the next two years. In FY 2024, $25.4 million will support community-directed needs assessments, service planning and program start-up activities in all 21 counties. In FY 2025, the proposed $45.6 million balance of initial funding will support a growing volume of community-based and directed family success services.
"The state's last budget included a projected $8 billion of spending for distress-related programs and services, responding to economic and social conditions fueled by a lack of funding to enable families to succeed," said Tom Blatner, Co-Founder and Board President, FSI. "The proposed two-year investment of $71 million in family success is less than 1% of one year's budgeted expenditures for distress-related remediation services – it's a smart investment that will pay dividends for New Jersey families."
For more information on the legislation, including a list of legislative co-sponsors, visit www.FamilySuccessInstitute.com/bills.
About The Family Success Institute
The Family Success Institute (FSI) is a statewide 501(c)(3) nonprofit that supports a transformational shift in public funding and programs, away from a model of reacting to family distress and toward a proactive model of investing in supports and services that enhance community and family strength. With a goal of promoting family success at the state and local levels, FSI conducts policy analysis, forms coalitions and promotes public dialogue to fulfill the organization's vision of every family and community having the resources, opportunities and support they need to successfully raise children from birth to young adulthood. The organization is joined by a "Learning Community" of local advocates, government and nonprofit leaders, and residents who share information, experiences and inspiration to formulate positive strategies for change and demonstrate how powerful, place-based community mobilization can achieve better outcomes for children and youth. For more information, go to https://familysuccessinstitute.com/.
Social Media
#InvestInSuccess
Facebook:  Family Success Institute
Twitter: @FamSuccessInst
LinkedIn:  The Family Success Institute – A NJ Nonprofit Corporation